About Conference
We cordially invite you to 3rd Worldcongress on Cardiology and Cardiac Nursing that is scheduled to be held from March 25-26, 2019 in Amsterdam, Netherlands. The theme of the conference "Fostering the Future Excellence in Cardiology and Cardiac Nursing " is to focus on exploring the challenges concerning excellence in Cardiology summit 2019 research and advancements.
It units world-renowned experts, scientists and physicians to discuss the strategies and techniques in the field of

cardiology

. This conference invites participants from universities, research institutions, and diagnostic companies to share your explorations and research experiences on all related aspects of

cardiology

, providing a showcase of latest techniques and innovations.
Benefits of attending
The 3rd World congress on Cardiology and Cardiac Nursing provides a great platform for experiencing and refreshing your knowledge base amid world-class scientists and researchers. The attendees will conquer the latest advances, innovations and networking with professionals across the globe.
Why to attend?
Why Amsterdam, Netherlands?
INTENDED AUDIENCES
Cardiologists

Physicians

Researchers

Academicians

Doctors

Manufacturer of Medical Devices

Training Institutes

University Professors
Welcome Message
Cardiology Summit 2019 Organizing Committee extends a warm welcome in inviting you to 3rd World congress on Cardiology and Cardiac Nursing scheduled to be held from March 25-26, 2019 in Amsterdam, Netherlands.
Allied Academies welcome all the researchers, doctors, participants to make your presence felt at the conference. Cardiology conference provides insight into key concepts on recent advances in cardiology and cardiac surgery. Our Conferences deliver new ideas, convictions, strategies and tactics that directly affect how you do business. No other Conference will offer impressive roaster of Keynote speakers, quality attendees, and compelling content. Cardiology summit 2019 will provide every attendee with great opportunities to publish results, share the knowledge and enrich your professional network. We provide a platform to refresh your knowledge and explore the innovations in cardiology.
The theme of the conference "Fostering the Future Excellence in Cardiology and Cardiac Nursing "is to focus on exploring the challenges concerning excellence in cardiac Nursing research and advancements.
The Two-day conference will include keynote presentations, expert talks, scientific sessions amid world-renowned experts and delegates.
Come, attend, explore.
Hope to see you in Amsterdam, Netherlands
Sincerely
Cardiology Summit 2019
Sessions/Tracks
Track 01: Cardiovasculardisease
Cardiovascular disease (CVD) is a class of diseases that involve the heart or blood vessels Cardiovascular disease includes coronary artery diseases (CAD) such as angina and myocardial infarction (commonly known as a heart attack). Other CVDs include stroke, heart failure, hypertensive heart disease, rheumatic heart disease, cardiomyopathy, heart arrhythmia, congenital heart disease, valvular heart disease, Carditis, aortic aneurysms, peripheral artery disease, and Venousthrombosis.
Left-sided heart failure

Right-sided heart failure

Congestive heart failure

Coronary artery disease
Track 02: Cardiovascular Risk Reduction

Atherosclerosis is a very old disease, which has been found in the mummies of Egyptian pharaohs. It is a pathological entity and its clinical counterpart is cardiovascular disease (CVD). Only in recent times have its consequences reached epidemic proportions, mainly in Western affluent societies, although that epidemic is breaking through to other non-Western populations today. The clinical manifestations of atherosclerosis are manifold, but still constitute only the tip of the iceberg. To some extent atherosclerosis is universal, the pathogenesis is complex, but it is likely that more than 90% of the facts about the processes involved are now known, although how these facts fit into an overall comprehensible framework is less understood.
Hysterectomy

Dyslipidemia

Hysterectomy

Coagulation factors

Hyperhomocysteinemia



Track 03: Acute Coronary Syndromes (ACS)

Acute coronary syndrome (ACS) is a syndrome (set of signs and symptoms) due to decreased blood flow in the coronary arteries such that part of the heart muscle is unable to function properly or dies. The most common symptom is chest pain, often radiating to the left shoulder or angle of the jaw, crushing, central and associated with nausea and sweating. Many people with acute coronary syndromes present with symptoms other than chest pain, particularly, women, older patients, and patients with diabetes mellitus. Previous ACS-Surveys and Snapshot within the Euro Heart Survey Programme showed gaps between recommendations by guidelines and their implementation into clinical practice. In addition wide variations in the treatment of STEMI between countries have been noticed, especially in the use of primary percutaneous coronary intervention (PCI Chest pain or discomfort.
Shortness of breath

Feeling dizzy or lightheaded

pulmonary artery

Electrocardiogram

coronary thrombosis

proteoglycan
Track 04: Invasive and Interventional cardiology

Interventional cardiology is a chapter of cardiology that deals particularly with the catheter based treatment of structural heart diseases. A huge number of procedures can be acted on the heart by catheterization. This most commonly includes the insertion of a sheath into the femoral artery (but, in practice, any large peripheral artery or vein) and cannulating the heart below X-ray visualization (usually fluoroscopy).
Angioplasty

Coronary Stents

Embolic protection

Percutaneous valve repair

Balloon valvuloplasty

Atherectomy
Track 05: Heart Failure

Heart failure (HF), often referred to as congestive heart failure (CHF), is when the heart is unable to pump sufficiently to maintain blood flow to meet the body's needs. Signs and symptoms commonly include shortness of breath, excessive tiredness, and leg swelling. The shortness of breath is usually worse with exercise, while lying down, and may wake the person at night. A limited ability to exercise is also a common feature. Chest pain, including angina, does not typically occur due to heart failure.
Heart failure is a common, costly, and potentially fatal condition. In 2015 it affected about 40 million people globally. Overall around 2% of adults have heart failure and in those over the age of 65, this increases to 6–10%. Rates are predicted to increase..
congestive heart failure (CHF)

systemic circulation

hepatojugular reflux

pleural effusion

Prognosis

Acute decompensation
Track 06: Hypertension

Hypertension (HTN or HT), also known as high blood pressure (HBP), is a long-term medical condition in which the blood pressure in the arteries is persistently elevated. High blood pressure usually does not cause symptoms. Long-term high blood pressure, however, is a major risk factor for coronary artery disease, stroke, heart failure, atrial fibrillation, peripheral vascular disease, vision loss, chronic kidney disease, and dementia. Normal blood pressure is 120 over 80 mm of mercury (mmHg), but hypertension is higher than 130 over 80 mmHg. Acute causes of high blood pressure include stress, but it can happen on its own, or it can result from an underlying condition, such as kidney disease.
Hypertensive crisis

Gestational hypertension

Pre-eclampsia

Resistant hypertension

hyperthyroidism
Track 07: Thrombosis

Thrombosis is the formation of a blood clot inside a blood vessel, obstructing the flow of blood through the circulatory system. When a blood vessel (a vein or an artery) is injured, the body uses platelets (thrombocytes) and fibrin to form a blood clot to prevent blood loss. Even when a blood vessel is not injured, blood clots may form in the body under certain conditions. A clot, or a piece of the clot, that breaks free and begins to travel around the body is known as an embolus.
Venous thrombosis

Deep vein thrombosis

Paget-Schroetter disease

Budd-Chiari syndrome

Portal vein thrombosis

Renal vein thrombosis

Cerebral venous sinus thrombosis

Jugular vein thrombosis
Track 08: Cardiovascular Pharmacology and Toxicology


Cardiovascular Toxicology deals with the adverse effects on the heart or blood systems which result from exposure to toxic chemicals. It describes safety data of detrimental effects of new cardiovascular drugs. Pharmacology of vascular endothelium deals with alterations of endothelial cells and the vasculature play a central role in the pathogenesis of a broad spectrum of the most dreadful of human diseases, as endothelial cells have the key function of participating in the maintenance of patent and functional capillaries.
Myocardial Contractility

Cardio toxic agents

Cardiac anatomy and physiology

Antihypertensive agents

Endothelial cells
Track 09: Heart Diseases and Cardiac Arrest

Heart attack mistakenly refers to cardiac arrest, but heart attacks are caused by a blockage that stops the blood supply to the heart. This is because a person who is having a heart attack may develop a dangerous heart rhythm, which can cause a cardiac arrest. Cardiac arrest refers to the disruption of heart function that is the malfunction of electrical system of the heart. This analysis demonstrates that the annual NIH investment in CA research is low relative to other leading causes of death in the United States and has declined over the past decade. Many cardiac arrests in adults happen because of a heart attack. Sudden cardiac death (SCD) from cardiac arrest is a major international public health problem accounting for an estimated 15–20% of all deaths; it is a leading cause of death in the United States.
ventricular fibrillation

Enlarged heart ( cardiomegaly)

Atrial Fibrillation

Metabolic Syndrome

Abnormal Heart Rhythms

Cholesterol Management
Track 10: Nuclear Cardiology


Nuclear cardiology studies use noninvasive techniques to assess myocardial blood flow, evaluate the pumping function of the heart as well as visualize the size and location of a heart attack. Among the techniques of nuclear cardiology, myocardial perfusion imaging is the most widely used.

Coronary sickness is the staggering reason of death in the western world. Consistently in the U.S.A, more than 500,000 men and women fail miserably in light of coronary vein disease. In the midst of the latest two decades, critical advances have been done in the examination and treatment of coronary ailment. Nuclear Cardiology is the basic role behind beginning of the assurance of coronary ailment and the evaluation of disease degree and the acknowledgment of results in the setting of coronary supply course affliction. Nuclear cardiology contemplates use non-meddling procedures to explore myocardial circulation system, choose the coordinating limit of the heart and also envision the size and setting of a heart ambush. Among the methodologies of nuclear cardiology, myocardial perfusion imaging is the most generally used.
Imaging of the nervous system of the heart

10-2Positron emission tomography (PET)

Stress testing

ischaemic memory
Track 11: Cardiovascular Imaging
The Cardiovascular Imaging (CVI) Division uses the latest magnetic resonance and computed tomography technology for the noninvasive imaging of the heart and vascular system in children and adults. Sophisticated post-processing techniques provide unprecedented 3- and 4-dimensional visualization of complex cardiovascular anatomy and pathology to facilitate treatment planning for surgical or endovascular procedures, some of which are pioneered at and unique to Stanford. The CVI Division provides a fellowship training program for cardiovascular radiologists and participates in educational curricula of trainees in radiology, cardiology, cardiothoracic and vascular surgery. Clinical research topics include the imaging of the aorta, heart valves, and blood flow. Research in pediatric cardiovascular imaging includes radiation dose reduction strategies in pediatric cardiac CT as well as new MRI and CT techniques applied to the clinical management of congenital heart disease.

Echocardiography

Magnetic Resonance Imaging

Positron Emission Tomography

CT Coronary Angiography (CTCA)

Three-dimensional Echocardiography

Contrast Echocardiography

Multitudinal Echocardiography

Diagnosis tests & Procedures in Cardiology
Track 12: Cardiovascular Engineering

Cardiovascular Engineering fortifies inventive strategies and mechanical progressions in the essential comprehension of the cardiovascular framework and in cardiovascular analysis and treatment applications. Unique Contributions layout new ideas and applications in cardiovascular mechanics, cardiology applications and indicative strategies, heart and vascular imaging, gadgets and instrumentation, hemodynamic checking and estimations, heart help, vascular unions and counterfeit hearts, cardiovascular electrophysiology procedures, PC demonstrating and sedate conveyance frameworks.
Cardiac Resynchronization Therapy Device

Cardiac Computed Tomography

Device Therapy

Cardiology Imaging

Cardiovascular Implant Devices

Cardiac 3-D Imaging

Intravascular Ultrasound
Track 13: Cardiac Disease in Pregnancy

Cardiac disease in the pregnant patient can present challenges in cardiovascular and maternal-fetal management. It is important to understand that even in normal patients, pregnancy imposes some dramatic physiologic changes upon the cardiovascular system. These include an increase in plasma volume by 50%, an increase in resting pulse by 17%, and an increase in cardiac output by 50%. After delivery, the heart rate normalizes within 10 days; by 3 months postpartum, stroke volume, cardiac output, and systemic vascular resistance return to the pre-pregnancy state. General guidelines for the management of pregnant women with heart disease are outlined below.
Coronary artery disease in pregnancy

Pregnancy and cardiomyopathy

Pregnancy and valvular heart disease

Pregnancy and congenital heart disease

Physiological changes during pregnancy and puerperium
Track 14: Cardiac surgery or cardiovascular surgery

Cardiac surgery, or cardiovascular surgery, is the surgery of heart or great vessels. It is often carried out to treat complications of ischemic heart disease; to correct congenital heart disease; or to treat valvular heart disease due to various causes, which include endocarditis, rheumatic heart disease, and atherosclerosis. Other surgeries include Minimally Invasive Heart Surgery, Ventricular Assist Devices (VADs), heart transplantation and much more. Healthy valves open and close in a specific way as the heart pumps blood. Each valve has one set of flaps called leaflets. The leaflets open to allow blood to pass from one heart apartment into another or into the arteries. Then the leaflets close tightly to cease blood from flowing backward. Heart surgery is applied to fix leaflets that do not open as wide as they should. This can happen if they become thick or stiff or join together. As a result, not enough blood flows through the valve.
Cardiothoracic surgery

Cardiovascular surgery

Coronary artery bypass surgery (CABG)

Transmyocardial laser revascularization

Heart valve repair

Carotid artery operations
Track15: Echocardiography


Electrocardiography (ECG) is the method of recording of the electrical activity of the heart over a time period using electrodes placed on the skin. These electrodes help in the detection of the minute electrical changes on the skin that arise from the electro-physiologic pattern of heart muscle while depolarizing during each heartbeat. This record called the electrocardiogram (also known as an ECG), gives information about the part of the heart that triggers each heartbeat (the pacemaker called the sino-atrial node), the nerve conduction pathways of the heart, and the heart rate and rhythm. Usually, an ECG is obtained if a heart disorder is suspected.
Transesophageal echocardiogram

Cardiac stress test

Contrast echocardiography

Transthoracic echocardiogram
Track 16: Cardiac Arrhythmias

Cardiac Arrhythmias also called cardiac dysrhythmia or irregular heartbeat. It is a condition in which the heartbeat is irregular, too fast, or too slow. It includes extra beats, supraventricular tachycardia, ventricular arrhythmias, and Brady arrhythmias. Many types of arrhythmia have no symptoms. When symptoms are present these may include palpitations or feeling a pause between heartbeats. More seriously there may be light headedness, passing out, shortness of breath, or chest pain, some predispose a person to complications such as stroke or heart failure. Others may result in cardiac arrest.
Bradycardia

Vagal maneuvers

Cardioversion

Ventricular aneurysm surgery

Long QT syndrome
Track 17: Cardiomyopathies

Cardiomyopathy is categorized as hypertrophic cardiomyopathy, dilated Cardiomyopathy, takotsubo Cardiomyopathy & restrictive Cardio-myopathy. In dilated Cardiomyopathy the ventricles enlarges & weakens, in restrictive Cardiomyopathy the ventricles stiffens, in hypertrophic Cardiomyopathy heart muscles enlarges or thickens. Cardiomyopathy is a most common group of diseases that affect the heart muscles. In this, the heart muscle becomes rigid, enlarged or thick. In this condition, heart is less able to circulate the blood to all the body parts and maintain a normal electrical rhythm. This can lead to heart failure or irregular heartbeats called arrhythmias. In turn, heart failure can cause fluid to build up in the legs, ankles, lungs, feet or abdomen. The Typical perilous danger in patients with cardiomyopathies is sporadic heart rate.
Hypertrophic cardiomyopathy

Arrhythmogenic right ventricular cardiomyopathy (ARVC)

LV non-compaction

Ischemic cardiomyopathy

Endomyocardial

muscular dystrophy
Track 18: Pediatric and neonatal Cardiology

Pericardial diseases may clinically be classified as acute pericarditis, pericardial effusion, cardiac tamponade and constrictive pericarditis. Infectious endocarditis is a form of endocarditis. It is the inflammation of the inner tissues of the heart. These are the major inflammatory defects for Babies Heart. This cardiology conference, or rather all cardiology conferences, will help in networking, B2B partnerships between professionals and academic staff. Cardiology conferences, cardiac conferences are very important for ordinary people to be aware of the most important part of the human body. Neonatal heart conditions mainly includes heart defects associated with other types of disease, such as diaphragmatic hernia, heart muscle disease (cardiomyopathy) or infection (myocarditis), Heart problems due to lung masses, etc. Congenital heart disease (CHD) is the most common, congenital disorder in newborns. A neonatal cardiologist is a pediatrician who has received extensive training in diagnosing and treating babies cardiac problems.
Rapid Breathing

Cyanosis (a bluish tint to the skin, lips, and fingernails)

Poor Blood Circulation

Hypertension in Neonates

Fatigue (tiredness)
Track 19: Congenital heart diseases

Heart diseases are the term used to indicate disorder of heart. Coronary artery disease is also known as ischemic heart disease. It is caused by atherosclerosis, that is the narrowing and / or blockage of the blood vessels that supply the heart. It is one of the most common forms of heart disease and the leading cause of heart attacks and angina. It does not cause chest pain. Most congenital heart problems do not present with other diseases. Complications that can result from heart defects include heart failure. Most common Heart Diseases are Silent Ischemia, Peripheral Arterial Disease, HeartAttack (Myocardial Infarction).
Coronary artery disease

Silent ischemia

Angina

Heart attack (myocardial infarction)

Atherosclerosis: Risk factors and prevention

Arrhythmia

Infective endocarditis

Peripheral arterial disease

Grown up congenital heart disease(GUCH)
Track 20: Clinical case Reports on cardiology


Cardiology case reports give an appropriate assemblage for all cardiologists by rendering their important clinical cases of late occurrence. Studying from medical cases provides valuable experience for clinicians, students and paramedical staff -members. Rare medical reports and conditions discovered through the latest methods of examination are reinforced. Furthermore, studying diagnostic methods from medical cases and interpretation of symptoms is significant to train and increase the processes which are being used in the clinical field.
Case Reports on Pediatric Cardiology

Case Reports on Arrhythmias

Case Reports on Atherosclerosis

Case Reports on Heart Regeneration

Case Reports on Heart Diagnosis

Case Reports on Cardiac Surgery
Track 21: Atrial Fibrillation


Atrial fibrillation (AF or A-fib) is an abnormal heart rhythm characterized by rapid and irregular beating of the atria. Often it starts as brief periods of abnormal beating which become longer and possibly constant over time. Often episodes have no symptoms. Occasionally there may be heart palpitations, fainting, lightheadedness, shortness of breath, or chest pain. The disease is associated with an increased risk of heart failure, dementia, and stroke. It is a type of supraventricular tachycardia.

Electrical conduction system of the heart
sinoatrial node

mitral stenosis

sick sinus syndrome

ischemic strokes

sarcoplasmic reticulum

supraventricular tachycardias
Market Analysis
The global market for cardiovascular devices reached nearly $42.4 billion in 2017 and estimated to reach $59.1 billion by 2022, at a compound annual growth rate (CAGR) of 6.9% for the period of 2017-2022. The market for cardiac biomarkers is estimated to reach $7.2 billion by 2018, at a compound annual growth rate (CAGR) of 12.8% from 2013 to 2018.
The number of cardiac procedures performed increased steadily over the five years to 2017, providing overwhelming demand for operators in the Cardiologists industry. In particular, the growing burden of cardiovascular disease fostered increased demand. In addition, increasing rates of obesity and an aging baby-boomer population have resulted in an uptick in heart-related conditions. As a result, the early onset of chronic health conditions, such as heart disease, hypertension and diabetes, bolstered demand for industry services. . Improving economic conditions through 2022 are expected to underpin steady growth for cardiologists, though profit pressures will encourage consolidation in the industry.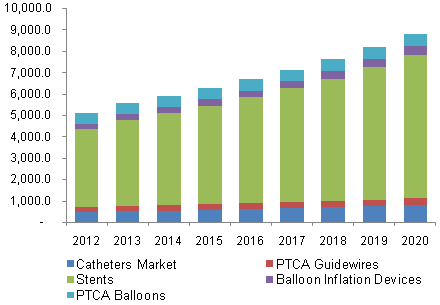 Major societies
Vanderbilt University

University of Alabama-Birmingham

Cornell University

University of Michigan

Harvard University

University of Texas Southwestern medical center

Emory University

Yale University

Northwestern University

Vanderbilt University

University of Washington

University of Rochester

European Society of Cardiology

American Association of Heart Failure Nurses (AAHFN)

American Society of Nuclear Cardiology (ASNC)

American Society for Echocardiography

Pediatric Cardiology Associates

The Pediatric Cardiac Intensive Care Society
Top hospitals in Netherlands: -
VU University Medical Center

Onze Lieve Vrouwe Gasthuis

Sint Lucas Andreas Hospital

BovenIJ ziekenhuis

Catharina Ziekenhuis

Martini Hospital

Reinier de Graaf Hospital

Haaglanden Medical Center

ETZ TweeSteden

Elkerliek Hospital

University Medical Center Groningen

IJsselland Hospital